Power system design and security of electricity supply - Exchange between Australia and Germany
Delegation trip to Germany (October 16 - 19, 2018)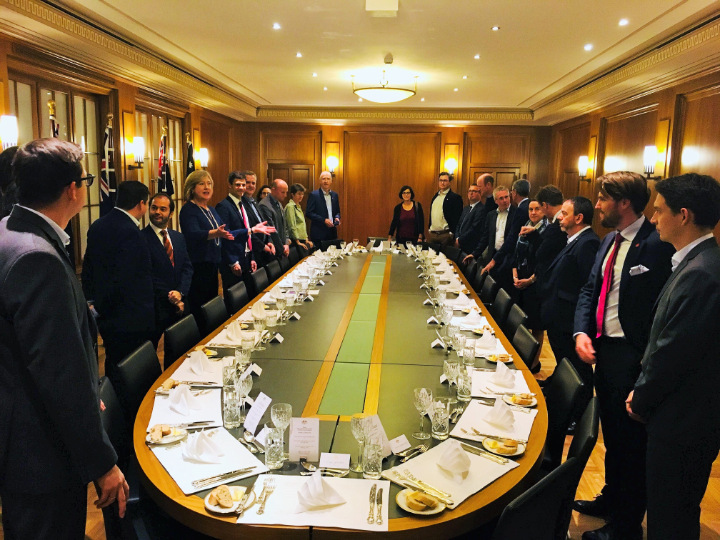 How should we deal with higher penetration of renewables? What is the impact on the incumbent utilities? What will be the long term role of coal and gas in the energy mix? These are some of the many common questions Australia and Europe face on the road towards a cleaner and more flexible power supply system.
With the goal to better understand and navigate the newly emerging power systems, the German Federal Ministry for Economic Affairs and Energy (BMWi) invited high level representatives to participate in a bilateral thought leader exchange. The delegation trip is part of a broader scale effort to strengthen the energy cooperation between our countries, encourage the exchange of ideas, and build energy transition policy expertise.
This knowledge exchange aimed to provide solutions for long-term strategic power system planning, improved market design that can increase power system flexibility and reliability and reduce costs, enhanced distribution and transmission planning, and better cross-regional operations coordination. It offered the opportunity for multi-stakeholders to identify, track, and enable new market and planning models and technologies for grid management and operation.
Cecilia Strandberg
Project Director
Tel: +49 (0)30 58 70870 42
Fax: +49 (0)30 58 70870 88
Email: strandberg[at]renac.de
---
---
---
---
---
Tuesday, October 16, 2018
Introduction and Meeting with Government Agencies
Berlin

08.30 am
Welcome and introduction to the week's program and to the energy dialogue program between Germany and Australia
Mr Raffaele Piria, Senior Project Manager, adelphi
Mr. Albrecht Tiedemann, Head of Division, Renewables Academy (RENAC) AG
08.45 am

Introduction of participants of delegation


09.15 am

Welcome by the Head of Division Dr. Falk Bömeke from the German Federal Ministry for Economic Affairs and Energy (BMWi)
Dr. Falk Bömeke, Head of Division, International Energy Cooperation, BMWi
09.30 am

Introduction to the German Energiewende
Dr. Falk Bömeke, Head of Division, International Energy Cooperation, BMWi
Mr. David Lerch, Deputy Head of Divison, Digitalization of the Energy Transition, BMWi
Mr. Benedikt Günter, Deputy Head of Division, EU-electricity matters, National and European electricity market integration, BMWi

10.30 am

Coffee / tea break

11.00 am

Electricity market design
Grids
Renewable power support schemes
Dr. Falko Ueckerdt, Managing Director, Australien-German Energy Transition Hub
Dr. Michael Pahle, Head of working group "Energy Strategies Europe & Germany, Potsdam Institute for Climate Impact Research (PIK Potsdam)
Prof. Dr. Lion Hirth, Assistant Professor of Governance of Digitalisation and Energy Policy, Hertie School of Governance
Dr. Wolf-Peter Schill, Research Associate, German Institute for Economic Research (DIW Berlin)
Mr. Philipp Godron, Senior Associate Global Energy Transition, Agora Energiewende

01.00 pm

Lunch break
02.00 pm

Role of the Regulator
Dr. Stefan Arent, Deputy Head of Section - International Coordination Energy, The Federal Network Agency (BNetzA)

03.00 pm

Presentation of delegaton trip agenda for the week
Ms. Cecilia Strandberg, Project Director, Renewables Academy (RENAC) AG
06.30 pm
Welcome Dinner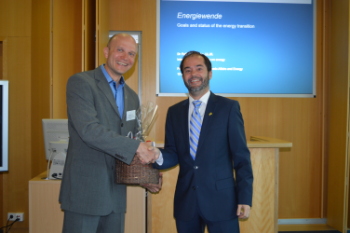 ---
Wednesday, October 17, 2018
Stakeholder Meetings
Berlin
10.00 am
Meeting and site visit: Transmission Grid Operator (TSO)
Mr. Frederick Jahns, Team Leading - Mid-term Operational Planning, 50Hertz

12:45 pm
Lunch break
02.00 pm

Meeting with VKU
Mr. Rainer Stock, Head of Unit, German Association of Local Utilities (VKU)
03.30 pm
Coffe / tea break

03.45 pm
Meeting with EnBW
Dr. Jörg Jasper, Group Expert Energy Economics & Policy, EnBW

06.00 pm
Optional: Guided city tour on foot*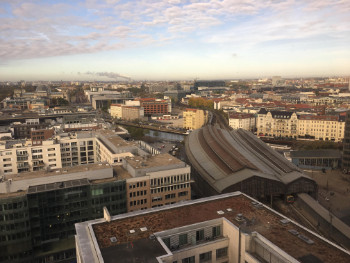 ---
Thursday, October 18, 2018
Stakeholder Meetings and Site Visits
Berlin
09.00 am
Registration and welcoming at the Energy Day 2018 of the World Energy Council Germany (WEC Germany)

09.30 pm
Presentation of the outcome of the World Energy Council Study "International Aspects of a Power-2-X Roadmap"
Dr. Uwe Frank, President, World Energy Council (WEC) Germany
Dr. Jens Perner, Associate Director, Frontier Economics
Mr. Thomas Bareiß, Parliamentary State Secretary, BMWi
Dr. Matar Al Neyadi, Undersecretary of the Ministry of Energy & Industry, UAE

11.00 am
Energy storage in the context of the Energiewende
Dr. Wolf-Peter Schill, Research Associate, DIW Berlin

12.15 pm

Lunch break

02.15 pm

Site visit: Combined Power-to-Heat (P2H) / Power-to-Cool (P2C) at EUREF Campus
Mr. Jonas Schorr, Guide
06.00 pm
Reception at the Australian Embassy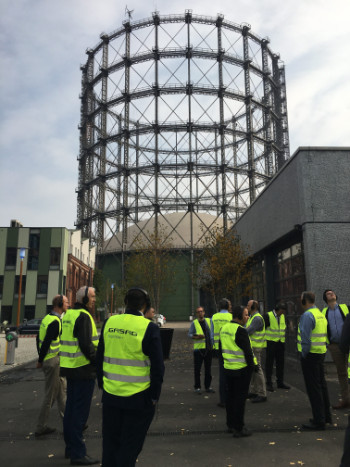 ---
Friday, October 19, 2018
Meetings and Concluding Workshop
Berlin
10.00 am
German DSOs in the Energiewende
innogy RE strategy
Dr. Stefan Richter, Vice President Regulatory Management & Grid Economics, Innogy SE
Mr. Holger Gassner, Head of Strategy & Technology / Markets & Regulatory Affairs for the Renewables Division, Innogy SE

11.35 am
Lunch break

01.00 pm
Meeting with the German Renewable Energy Federation (BEE)
Dr. Peter Röttgen, Executive Director, BEE
Mr. Sebastian Jasim, Head of National and International Projects, BEE
02.15 pm
Coffee / tea break

02.30 pm
Concluding workshop
Mr. Robert Brandt, Senior Project Manager, Adelphi
Mr. Albrecht Tiedemann, Head of Unit, Renewables Academy (RENAC) AG
04:00 pm
End of the official program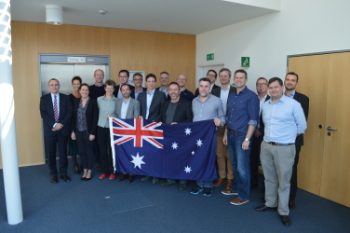 ---