ENERGY SYSTEM TRANSFORMATION: EXCHANGE BETWEEN NEW YORK STATE AND GERMANY
Delegation trip New York State (June 19 - 23, 2017)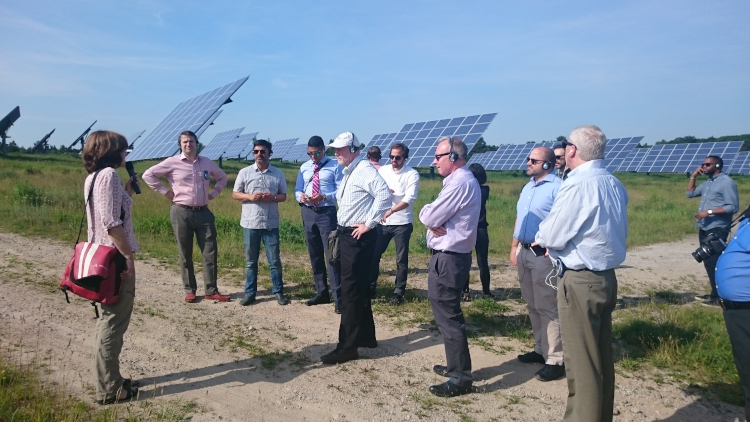 New York State has released an ambitious energy plan with a target of 40% reduction in greenhouse gas emissions from 1990 levels and a 50% share of energy generation from renewable energy sources by 2050. These represent some of the most ambitious climate and renewable energy targets in the USA.
The Federal Government of Germany is also actively pursuing an energy transition path with an intended reduction of GHG by 80-95% and a share of renewable energy of 60% of gross final energy consumption by 2050. Germany is eager to find partners in the international energy transition, by exchanging ideas and by sharing its myriad experiences (and challenges) in energy policy and technology development gained over the past decades.
Aiming to strengthen the transatlantic energy cooperation, to encourage the exchange of experiences and best practices and to build up energy transition policy expertise - the German Federal Ministry for Economic Affairs and Energy invited policy-makers, entrepreneurs and energy experts from New York State to participate in a delegation trip to Germany taking place from June 19 – 23, 2017.
The trip was organized by the Renewables Academy (RENAC) AG in Berlin and supported by its local partner, the German American Chamber of Commerce (GACC) in New York.
Please find below the program and presentations of the delegation trip of the experts from the New York State to Berlin from June 19-23, 2017.
Cecilia Strandberg
Project Director
Tel: +49 (0)30 58 70870 42
Fax: +49 (0)30 58 70870 88
Email: strandberg[at]renac.de
---
---
---
---
---
Monday, June 19, 2017
Introduction and Meeting with the German Government
Berlin
08:45 am
Welcome and introduction to the Agenda and Delegation trip
Mr. Berthold Breid, CEO RENAC, Renewables Academy (RENAC) AG
09:30 am
Welcome by State Secretary Rainer Baake at the Federal Ministry for Economic Affairs and Energy (BMWi)
Mr. Rainer Baake, State Secretary, Federal Ministry for Economic Affairs and Energy (BMWi)
09:45 am
Introduction to Germany's energy system transformation (Energiewende)
Dr. Martin Schöpe, Head of Division, International Energy Cooperation, BMWi
Introduction to Germany's Energy Transition - Energiewende
10:45 am
Coffee / tea break
11:15 am
Ensuring the Success of Germany's Energy System Transformation
Mr. Philipp Godron, Senior Associate Global Energy Transition, Agora Energiewende
Ensuring the Success of Germany's Energy System Transformation
12:45 pm
Lunch break
03:30 pm
Site visit of German Parliament (Bundestag)
06:30 pm
Welcome reception at the U.S. Embassy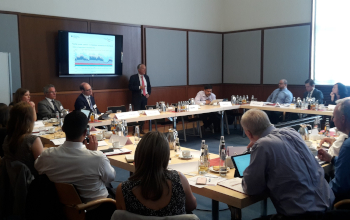 ---
Tuesday, June 20, 2017
Site visits to Feldheim and Hohen Neuendorf
Feldheim (Brandenburg), Hohen Neuendorf (Berlin)
09:00 am

Visit of the Energy Self-Sufficient Village of Feldheim
Ms. Cathleen Thompson, speaker and guide in Feldheim
The Self-Sufficient Village Feldheim is one of the most spectacular concepts for supplying enterprises, private households and a local government with renewable energies nearby Berlin.
Feldheim demonstrates how a community successfully meets all its electricity and heating needs through a combination of locally owned and operated medium-scale PV, wind and biogas plants.
Energy self-sufficient village Feldheim, district of the town of Treuenbrietzen in Potsdam-Mittelmark
12:00 pm

Lunch break
03:30 pm

Visit of the Energy-Plus Primary School in Hohen Neuendorf
Dr. Gustav Hillmann, speaker and guide, IBUS Architekten und Ingenieure Gbr.
The energy-plus primary school is a project within the initiative 'energy-efficient schools', that is part of the research focus 'energy-optimized construction' initiated by the Federal Ministry for Economic Affairs and Energy (BMWi) (former: Federal Ministry of Economy and Technology). This elementary school (7400 m²) was built as a pilot project for sustainability in construction. The building is producing more primary energy than using it itself and is therefore CO2 neutral.
Energy-Plus Primary School Hohen Neuendorf, Germany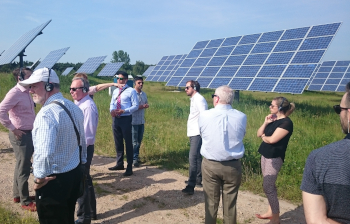 ---
Wednesday, June 21, 2017
Meetings in Berlin
Berlin
09:00 am

Meeting with the German Energy Agency - Deutsche Energie-Agentur (dena)
Mr. Robert Schachtschneider, Head of Management Office, dena
Mr. Elie-Lukas Limbacher, Expert for electricity grids and digitization, dena
Mr. Oliver Krieger, Senior Professional, Energy Efficient Buildings, dena
Introduction to dena – The German Energy Agency, Energy transition in a nutshell – Currrent challenges in a nutshell, dena – Activities in the field of digitalisation and sector coupling
12:00 pm

Lunch break
02:00 pm

Meeting with the Berliner Energy Agency - Berliner Energieagentur (BEA)
Mr. Michael Geißler, CEO BEA, BEA
Mr. Achim Neuhäuser, Director, BEA
Framework Conditions for Energy Efficiency and Energy Services in Germany and Berlin
07:00 pm

Welcome dinner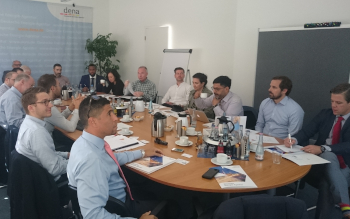 ---
Thursday, June 22, 2017
Site visits to Berlin and Magdeburg
Magdeburg, Berlin
10:00 am

Meeting and site visit to the Fraunhofer Institute for Factory Operation and Automation (IFF) in Magdeburg
Prof. Dr. M. Schenk, Prof. Dr. Michael Schenk, Director, Fraunhofer IFF
Dr. Przemyslaw Komarnicki, Fraunhofer IFF
Dr.-Ing. Matthias Gohla, Fraunhofer IFF
Dr.-Ing. Nico Zobel, Fraunhofer IFF
Dr.-Ing. Bartlomiej. Arendarski, Fraunhofer IFF
Andreas Höpfner, Fraunhofer IFF
01 Introduction Fraunhofer Gesellschaft / Fraunhofer IFF
02 Department - Convergent Infrastructures and Systems
03 Sustainable Power Generation and Energy Efficiency
04 Effcient Energy Consumption – Industry 4.0
05 E-mobility across Sectoral Components
06 Intelligent Energy Systems and Infrastructures Operation
07 Infrastructure Planning and Acceptance
01:00 pm

Lunch break
03:30 pm


Meeting and site visit to Siemens AG
Mr. David Armour, Chief City Executive, Siemens AG
Mr. Ewald Schweiger, Product Manager TR Global Grid Resiliency Concept, Siemens AG
Mr. Jürgen Loos, Head of Sales HVDC Transmission Lines, Siemens AG
Mr. Christian Heuer, Global Head of Energy Business Advisory, Siemens AG
Ms. Maggie Clout, Business Development Manager Blockchain, Siemens AG
Mr. Samuel Alt, Senior Director Government Affairs, Siemens AG

Guided tour of the Siemens Schaltgerätewerk (Switchgear Factory manufacturing plant) in Siemensstadt

Presentation and exchange on energy solutions related to resilience (e.g. portable substations, resilient transformers, smart/digital grid solutions), market growth (e.g. blockchain MicroGrid, HVDC) and substation value capture.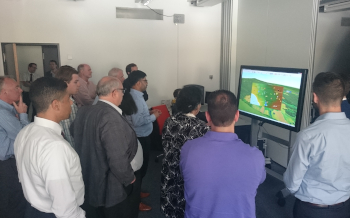 ---
Friday, June 23, 2017
Concluding workshop at the Renewables Academy (RENAC) AG
Berlin - Renewables Academy (RENAC) AG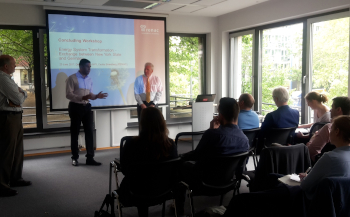 ---