ENERGY SYSTEM TRANSFORMATION: EXCHANGE BETWEEN NEW YORK STATE AND GERMANY
Delegation trip to Germany (March 12 - 16, 2018)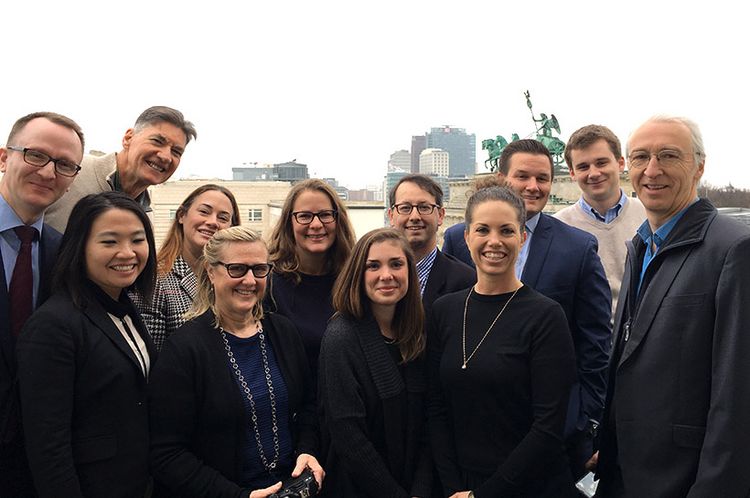 New York State has released an ambitious energy plan with a target of 40% reduction in greenhouse gas emissions from 1990 levels and a 50% share of energy generation from renewable energy sources by 2050. These represent some of the most ambitious climate and renewable energy targets in the USA.
The Federal Government of Germany is also actively pursuing an energy transition path with an intended reduction of GHG by 80-95% and a share of renewable energy of 60% of gross final energy consumption by 2050. Germany is eager to find partners in the international energy transition, by exchanging ideas and by sharing its myriad experiences (and challenges) in energy policy and technology development gained over the past decades.
Aiming to strengthen the transatlantic energy cooperation, to encourage the exchange of experiences and best practices and to build up energy transition policy expertise - the German Federal Ministry for Economic Affairs and Energy invited policy-makers, entrepreneurs and energy experts from New York State to participate in a delegation trip to Germany taking place from March 12 – 16, 2018.
The trip was organized by the Renewables Academy (RENAC) AG in Berlin and supported by its local partner, the German American Chamber of Commerce (GACC) in New York.
Please find below the program and presentations of the delegation trip of the experts from the New York State to Berlin from March 12 – 16, 2018.
Cecilia Strandberg
Project Director
Tel: +49 (0)30 58 70870 42
Fax: +49 (0)30 58 70870 88
Email: strandberg[at]renac.de
---
---
---
---
---
Monday, March 12, 2018
Introduction and Meeting with the German Government
Berlin
08.30 am

Welcome and introduction to the Agenda and Delegation trip
Mr. Raffaele Piria, Senior Project Manager, Adelphi
Mr. Berthold Breid, CEO RENAC, Renewables Academy (RENAC) AG
09:30 am

Welcome by Head of Division Dr. Martin Schöpe at the Federal Ministry for Economic Affairs and Energy (BMWi)
Dr. Martin Schöpe (IIA1), Head of Division International Energy Cooperation (BMWi)
09:45 am

Introduction to Germany's energy system transformation (Energiewende)
Dr. Falk Bömeke (IIA1), Deputy Head of Division International Energy Cooperation
Mr. Florian Wassenberg (IIIA1), Deputy Head of Division Energy transition/optimisation, BMWi
10.45 am

Coffee / tea break
11:15 am

Ensuring the Success of Germany's Energy System Transformation
Mr. Philipp Godron, Senior Associate Global Energy Transition, Agora Energiewende
12.45 am

Lunch break
02.00 pm

Role of the Regulator
Dr. Jan Peter Sasse, Division Economic Policy Issues, The Federal Network Agency (BNetzA)
04.00 pm

Meeting with the U.S. Embassy
Mr. Dan Froats, Economic Counselor and Mr. Joel Wiegert, First Secretary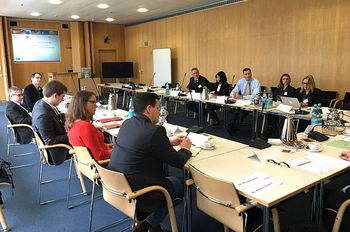 ---
Tuesday, March 13, 2018
Meetings and site visits
Berlin
10.00 am

Site visit of the Efficiency House Plus
Mr. Lukas Kühne, speaker and guide
11.30 am

Lunch break
02.00 pm

Meeting with NOW GmbH - National Organisation Hydrogen and Fuel Cell Technology
Mr. Jan Wegener, Programm Manager Europe
07.00 pm

Welcome dinner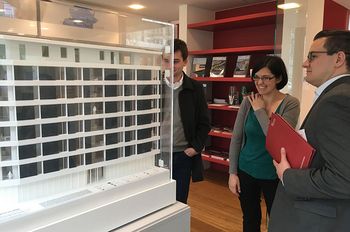 ---
Wednesday, March 14, 2018
Meetings
Berlin
09.00 am

Meeting with EWE
Mr. Tobias Kempermann, Head of Markets & Politics
11.30 am

Lunch break
01.00 pm

Meeting with the German Agency for Renewable Energies (AEE)
Mr. Philipp Vohrer, Managing Director of the German Agency for Renewable Energies
Mr. Ryotaro Kajimura, International Communications Officer, AEE
04.00 pm

Guided city tour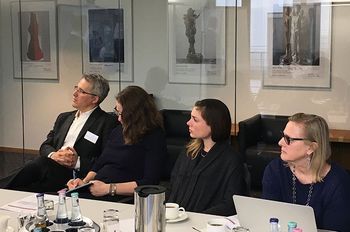 ---
Thursday, March 15, 2018
Meetings and site visits
Berlin
09.30 am

Site visit to Adlershof Science City
Mr. Frank Lauterbach, Adlershof Project GmbH
12.30 am

Lunch break
02.00 pm

Meeting and site visit at Younicos
Mr. Lars Stephan, Senior Manager Regulatory Affairs, Younicos AG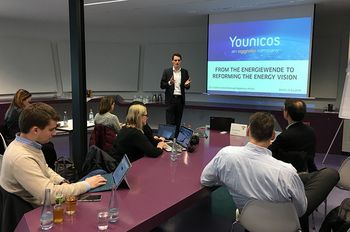 ---
Friday, March 16, 2018
Meeting and concluding workshop
Berlin - Renewables Academy (RENAC) AG
09.00 am

Meeting with Fraunhofer ISE
Prof. Dr. Hans-Martin Henning, Director of Fraunhofer ISE
10.30 am

Coffee / tea break
11.00 am

Concluding workshop
Mr. Albrecht Tiedemann, Head of divison, RENAC
Mrs. Cecilia Strandberg, Project director, RENAC
01.00 pm

End of official program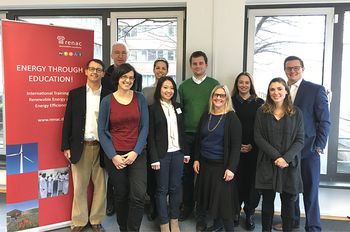 ---