GESS III: Wind Turbine Technology
Content
Learning objectives
Target groups
Course details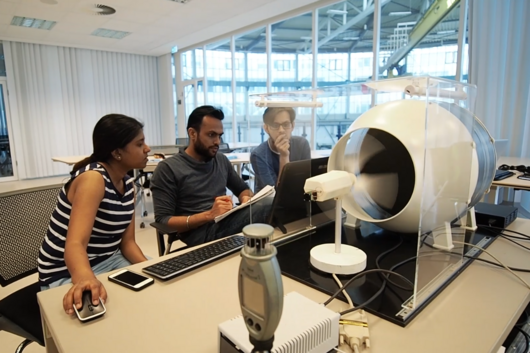 Highlights
Assessment of knowledge acquisition
Qualified trainer with extensive industry experience
Theoretical lectures, discussions, and group work
State-of-the-art practical training (calculations, hands-on exercises)
Use of technology-specific, self-build practical training rigs
Informative and engaging site visits or field trips with inspections of power plants and buildings
Certificate of attendance from RENAC
We offer discounts for our alumni, group bookings, and multiple purchases. Contact us for further details.
____________________________________________________________________________________
Contact
Dr. Emilienne Tingwey
Project Director Face-to-face Trainings
Tel: +49 (0)30 58 70870 52
Email: tingwey[at]renac.de
Lecturers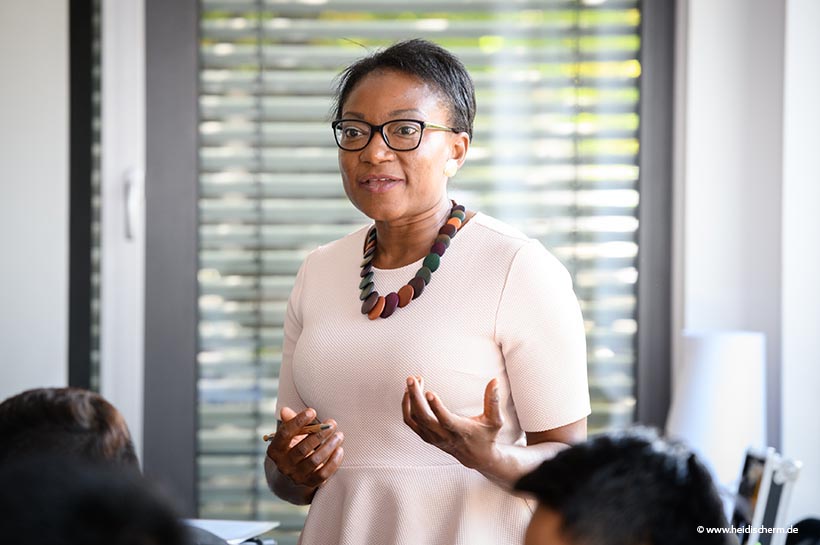 Dr. Emilienne Tingwey, RENAC
Current position:
Emilienne Tingwey joined the Renewables Academy (RENAC) AG in Berlin in 2010 and started off as a project assistant in the international know-how transfer project TREE (Transfer Renewable Energy & Efficiency). After managing various tailor-made courses offered by RENAC and carrying out solar training exercises, she is presently the project director of all face-to face training programmes at RENAC. She is head of the Green Energy Summer School, an annual study event offered by RENAC.
Professional experience:
Emilienne is a certified TüV trainer and trains people on how to carry out renewable energy training seminars and helps others to develop training programmes in renewable energy.Additionally, she is really keen to empower women and youth in the RE sector through training. With RENAC she carried out the APEC project 'Empowering women as managers of the Renewable Energy' on behalf of the United States Department of Energy. Through training and mentoring, the project helped to increase the contribution of women to RE development in APEC economies. She was also in charge of a GIZ sponsored project in Cameroon: Transfer of renewable energy knowledge through the usage of solar photovoltaic to provide energy (electricity) to a local health centre: an off-grid system was installed in a local health centre and thereby training some youth in the community.
Education:
Emilienne Tingwey holds a PhD in Environmental Sciences and a Masters in Environmental and Resource Management from the Brandenburg Technical University (BTU) in Cottbus (April 2009). Born in Cameroon, Dr. Emilienne Tingwey grew up and studied in Cameroon right up to her bachelor's degree before moving to Germany. She speaks fluent English, French, Pidgin, Moghamo and German.
Staffan Wiens, Mint-lab
Staffan Wiens is founder of mint-lab.io. As an expert in wind energy, he brings experiential learning to schools, universities, and professional training. For more than ten years, Staffan has been designing aerodynamic wind turbines and rotor blades. He also works as a freelancer on knowledge transfer and international projects for the Key Wind Energy GmbH.
Staffan holds a master's degree in mechanical engineering from the Technical University of Berlin. He currently lectures at the Technical University of Berlin, the Berliner Hochschule für Technik (BHT), and the Hochschule für Technik und Wirtschaft Berlin (HTW) [University of Applied Sciences].
Yusuf Tatli, Key Wind Energy
Yusuf Tatli has been involved in the wind energy industry for several years. He is currently a project engineer and head of laboratory at Key Wind Energy GmbH. At Key Wind, Yusuf is responsible for processing and managing renewable energy projects and supervising seminars. He also liaises for marketing, purchasing, and project coordination.
Yusuf obtained his master's degree in mechanical engineering from the Technical University of Berlin. During his studies, he focused mainly on the design and fluid system dynamics of wind turbines. As part of his graduate work, he constructed a test rig to determine the bending behaviour of bio-based rotor blades for micro wind turbines during static and dynamic load tests.