| | |
| --- | --- |
| Client | GIZ |
| Services | Webinar, Workshops |
| Topics | Green Hydrogen |
| Target groups | Open access |
| Target countries | South Africa, International |
| Year | 2022-2023 |
---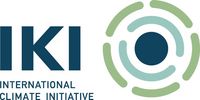 | | |
| --- | --- |
| Client | IKI |
| Services | Webinars, Workshops |
| Topics | Overview of the Tanzanian/Zambian energy market, key climate finance principles, RE technologies for productive use and rural electrification as well as technical and financial assessment of RE/EE projects |
| Target groups | Financial Institutions, SMEs and Multipliers |
| Target countries | Zambia and Tanzania |
| Year | 2019-2024 |
---

---
---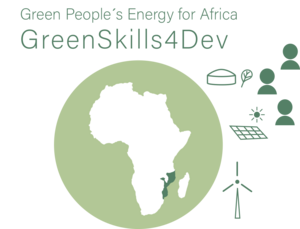 The GreenSkills4Dev Programme is designed to support different educational sectors in Mozambique with a strong focus on digital learning and capacity building in renewable energy. Local people with local knowledge are best suitable to develop a decentralised renewable energy structure in rural regions in Africa.

| | |
| --- | --- |
| Client | GIZ; Green Peoples Energy for Africa |
| Services | Implementing a Blended Learning Master Degree; supporting local training institutions to set up renewable energy trainings, providing trainings |
| Topics | Renewable energy technologies |
| Target groups | Students enrolled in a Master Course at Universidade Eduardo Mondlane in Maputo; nominated trainers from selected training institutions; employees of the private sector working in the solar business |
| Target countries | Mozambique |
| Year | 2021-2022 |
---
The Renewables Academy (RENAC) AG, under the coordination of adelphi, is supporting the BMWi in their aim to foster the energy policy exchange with the US, Canada, Australia and New Zealand. Within the framework of the energy dialogue, the Renewables Academy is the responsible partner for organizing high-level delegation trips to Germany and supports the BMWi in co-organizing energy policy events and expert workshops in Germany.
In addition to adelphi, the Renewables Academy, is formally partnering with The Regulatory Assistance Project (RAP) and the Chambers of Commerce in the US, Canada, Australia and New Zealand in the course of the energy dialogues.
| | |
| --- | --- |
| Client | Federal Ministry for Economic Affairs and Energy (BMWi) |
| Services | Delegation trips to Germany |
| Topics | Energy System Transition and Grid Integration |
| Target groups | Policy makers and energy officials on state and city level, regulators, thinks, tank representatives, industry representatives, researchers, NGO, others |
| Target countries | USA and Australia |
| Year | since 2017 |
Learn more
---
| | |
| --- | --- |
| Client | International Climate Initiative (IKI) |
| Services | Fellowship programme, study tours, online training |
| Topics | Energy System Transformation |
| Target groups | Think tanks, researchers and academia, NGOs, non-profit organizations, individuals working in the power sector |
| Countries | For eligible countries click here |
| Year | 2018 - 2023 |
---
| | |
| --- | --- |
| Client | International Climate Initiative IKI |
| Services | Academic services, Customer-specific programmes, Train-the-trainer programmes |
| Topics | Renewable energy technologies and their legal and economic aspects |
| Target groups | Educational institutions, Private institutions, Public institutions |
| Target countries | Argentina, Peru, Uruguguay (I), Brazil, Colombia, Dominican Republic, Honduras (II) |
| Year | 2019 – 2021 (I) and 2023 – 2027 (II) |
earn more
---
| | |
| --- | --- |
| Client | EurObserv'ER |
| Services | Publication of Barometer of Renewable Energies |
| Topics | Renewable energy technologies |
| Target groups | General public, media, policy makers, investors, industrialists |
| Countries | European Union |
| Year | since 1998 |
---
---
| | |
| --- | --- |
| Client | International Climate Initiative with support of the German Federal Ministry for the Environment, Nature Conservation and Nuclear Safety (BMU) |
| Services | Online trainings, blended learning, delegation tours, Green Finance Specialist programme and Train-the-Trainer seminars |
| Topics | Renewable energy and energy efficiency finance |
| Target groups | Commercial banks, development banks, private equity, risk capital and infrastructure funds, institutional investors |
| Taregt countries | India, Indonesia, Philippines, Thailand, Vietnam |
| Year | 2015 - 2018 |
---

| | |
| --- | --- |
| Partner | German Federal Ministry for Economic Cooperation and Development (BMZ), co-funded by the European Union (EU) and implemented by the Deutsche Gesellschaft für Internationale Zusammenarbeit (GIZ) GmbH together with expertise of RENAC |
| Services | Trainings, mentoring programmes, market creation |
| Topics | Market and business development for solar power |
| Target groups | Private sector campanies: project development, system design, wholesale, installation, operation and maintenance (O&M) |
| Target country | Iraq |
| Year | 2021 |
---