Green Banking Alumni Conference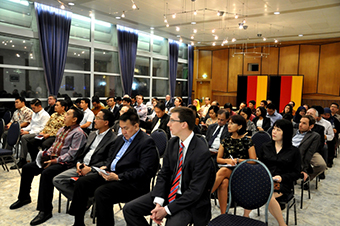 The Green Banking Alumni Conference will bring together the network established within the course of this 3-year project. In each of the partner countries, a one-day event will provide a platform for the programme's alumni to exchange their experiences and share their success stories.

The Alumni Conference will conclude the Green Banking project, which was funded by the International Climate Initiative (IKI). The event will be free of charge for all registered participants, and will include free coffee/tea and lunch. The scholarship does not cover any travel expenses, the participants have to organize and book the travel arrangements themselves.


---
The aim of the Green Banking Alumni Conference is:
To give insights from different perspectives into the international and local energy transition (experiences, challenges, best practice examples)
To transfer knowledge and experiences on important issues related to renewable energy and energy efficiency finance
To offer opportunities to initiate new business contacts and to engage in networking
---
Content and target groups
The conference is intended to give all participants the opportunity to exchange views on current global and local topics of financing energy efficiency and renewable energy. The idea is that the participants themselves become active and report on success stories in their countries, to which their acquired knowledge from the Green Banking seminars contributed.
The main target group are alumni from the respective programs offered within the framework of the Green Banking Project South-East Asia. Participants of the Delegation Tour, the Train-the-Trainer Seminar, the Green Finance Specialist or the Blended Learning Programme are the focus of the events.

We are also looking forward to welcoming numerous representatives of our political partners and local supporters.

External interested parties are also cordially invited to apply for participation in the event. Even if the project will come to an end, the growth of the Green Banking network shall continue to prosper.


---
| Course no. | Date | Country | City | Application period |
| --- | --- | --- | --- | --- |
| 2019 - AC | 26.04.2019 | India | Mumbai | 01.11.2018 – 27.01.2019 |
| 2019 - AC | 19.03.2019 | Indonesia | Jakarta | 01.11.2018 – 27.01.2019 |
| 2019 - AC | 16.04.2019 | Philippines | Manila | 01.11.2018 – 27.01.2019 |
| 2019 - AC | 29.04.2019 | Thailand | Bangkok | 01.11.2018 – 27.01.2019 |
| 2019 - AC | 22.03.2019 | Vietnam | Hanoi | 01.11.2018 – 27.01.2019 |
---