Berlin Renewables Academy expands its e-learning offering to over 100 online courses
Berlin, Germany, 30 March, 2020
The Renewables Academy (RENAC) is responding to the growing demand for online offerings in the field of renewable energy and energy efficiency by adding 14 new courses to its course programme. The international education provider from Berlin will thus offer 107 e-learning courses in the future. The new courses include current trend topics such as energy storage, grid integration and Power-to-X technologies. The wide range of courses offered by RENAC, from beginner courses to special topics, will therefore be further expanded. RENAC considers itself well prepared for the current increase in demand and the challenges of the international education market in terms of content and digital technologies.
"In the field of digital learning, RENAC has developed over the past ten years into one of the leading international course providers for a sustainable energy supply", says RENAC Executive Board member Berthold Breid. "At the moment we have over 1,100 online course participants studying the various course modules. For the coming semester in April, we have once again significantly expanded the content of our programme. In addition, we now offer many of our courses also in Spanish."
RENAC's e-learning offerings are now divided into 17 online training courses, which form a proven combination of different courses and can be booked directly, and 107 online courses that can also be combined according to specific needs. This means that the Renewables Academy caters to all groups of people – from private individuals to companies and organizations – who are interested in green energy topics and who wish to specialize further. The range of topics reflects the value chains of renewable energy and energy efficiency and provides valuable information on technologies, project development, market development, financing and grid integration.
RENAC's online training courses are all offered in English and for the most part also in Spanish. The 17 training courses are certified by the State Central Agency for Distance Learning (ZFU). The online offers are didactically challenging and offer participants various elements with info texts, graphics, videos, webinars, self-test questions and support from experts for content-related questions.

The Berlin-based Renewables Academy AG (RENAC) is one of the world's leading training academies for capacity building in the field of renewable energies and energy efficiency. Since its foundation in 2008, more than 17,000 participants from over 150 countries have taken part in the various training programmes.
You can find more information here: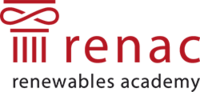 Dennis Duehrkoop
Head of Division
Tel: +49 (0)30 58 70870 64
Fax: +49 (0)30 58 70870 88
Email: duehrkoop[at]renac.de