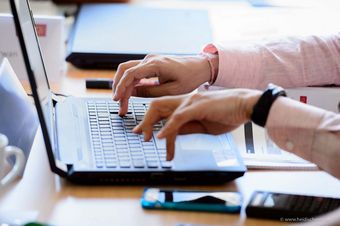 The Green Banking Online Training is a professional training that can be completed by each participant individually, at any time and from any location. The training is tailored to deliver a comprehensive, general introduction into green finance topics. There are two learning paths available, one specifically for renewable energy finance and one for energy efficiency finance.
Throughout the project lifetime of Green Banking, two Online Trainings were realised, with up to 30 scholarships for participants from each country per training.
---
The Online Training is designed to offer insight information into Green Energy and Climate Finance. It also offers basics on financial evaluation and support mechanisms as selectable courses for those participants who are not familiar with these topics.
The Online Training includes:
Renewable energy path: Intro to RE finance and technologies, standard contracts in RE projects, bankability of RE projects, access to international climate finance.
Energy efficiency path: Intro to EE finance and technologies, appraisal of EE projects, energy audits and ESCOs, access to international climate finance.
Both learning paths are complemented with political and market frameworks and case studies from the target countries of the Green Banking project.
---
The Online Training was specifically targeted at professionals from financial institutions interested in acquiring basic knowledge in the field of Green Energy and Climate Finance.
These professionals may be:
Credit Analysts
Project Finance Specialists
Client Relationship Managers
---
Each Online Training lasted 8 weeks; participants needed app. 5 to 10 hours study time per week to work through the material (reading, watching online lectures, self-evaluation, participation in the forum)
The participation in the Online Training was free of charge and included access to text and videos, questions for self-study, virtual classrooms, forum
Participants can print out a personalised copy of the course materials in the form of PDF documents for personal use
Course material was provided in English
Lecturers in the virtual classrooms presented in English
At the end of the training, participants received a RENAC certificate of attendance if the training is successfully completed
RENAC staff and lecturers offered extensive support all along the learning process via email and an online forum.
RENAC has many years of experience in distance learning via the internet. This training format has been increasing in popularity because it allows participants to decide when, where and how they prefer to learn.
The comprehensive Online Training programme ensured that the knowledge on fundamental aspects of Green Energy and Climate Finance was transferred to a broader audience in the partner countries.


---
| Course no. | Period | Duration (weeks) | Application |
| --- | --- | --- | --- |
| 2016 - OT | 12.09. - 04.11.2016 | 8 | n/a |
| 2017 - OT | 21.08. – 13.10.2017 | 8 | n/a |
---
---