Green Banking - Trainings on Green Energy and Climate Finance

---
Ready-made Finance courses
Economic and financial aspects have always been a core part of RENAC´s offering on the topics of renewable energy (RE) and energy efficiency (EE) technology. RE and EE investments are seeing tremendous growth all over the world, opening up many new business opportunities in the financial sector. In this context, RENAC offers comprehensive training programmes and specific courses to help professionals stay up to date with the state of the art in RE and EE finance. This has led the Green Banking Department to become one of largest at RENAC, as more and more people want to benefit from new business opportunities in the growing field of green finance.
RENAC's Green Banking offering is aimed at professionals working within:
Commercial banks
Development banks
Private equity, risk capital and infrastructure funds
Institutional investors
Utilities companies
RE/EE Project Development Companies and EPCs
For further information please contact greenbanking(at)renac.de.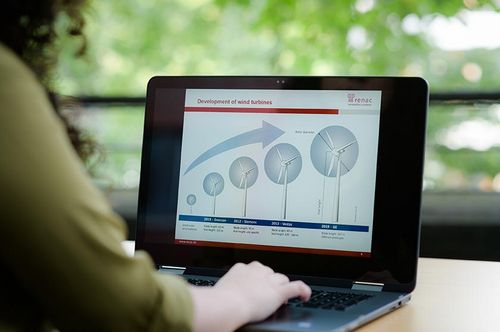 ---
Choose your ready-made course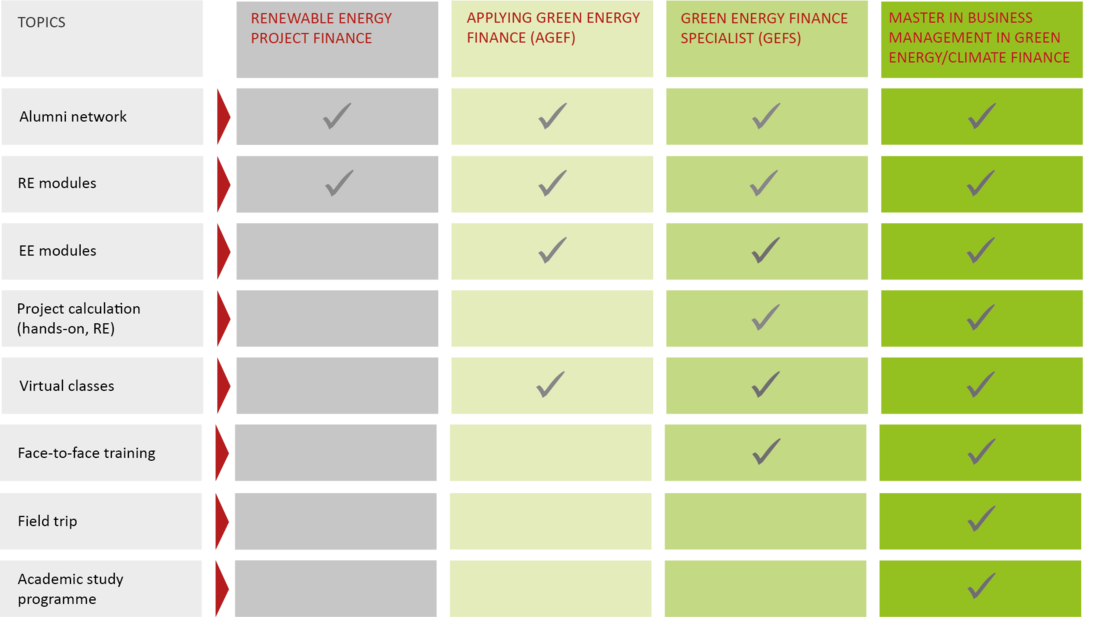 *The courses offered are all self-contained and have their own individual price. However, they are also complementary to one another and result in students incrementally deepening their knowledge about RE and EE finance with every new course taken.
---
Topic

Renewable Energy Project Finance

Applying Green Energy Finance (AGEF)

Green Energy Finance Specialist (GEFS)

MSc. in Business Management

Module(s) on
Renewable Energy (RE)

Online training
Online training
Hands-on RE project evaluation and calculation
Hands-on RE project evaluation and calculation
Module on Energy Efficiency (EE)
Online training
Hands-on EE project evaluation and calculation
Hands-on EE project evaluation and calculation
Face-to-Face (F2F) seminar / group work
3 days F2F seminar
1 week F2F seminar
Alumni network
Interaction with experienced lecturers through:
Online discussion forum

Online discussion forum
3 virtual classes

Online discussion forum
8 virtual classes
3 days F2F seminar

Online discussion forum
Virtual classes
1week F2F seminar
Support producing Master´s thesis

Assignments

After each module
Individual feedback for assignments

After each module
Different types of assignments to teach industry skills
Individual feedback and grading for assignments

According to master´s level requirements
Individual feedback from lecturers
Master´s thesis

Networking opportunities

Online discussion forum
Online discussion forum

Online forum
During F2F seminar
Field trip to a RE project in Germany

Online forum
During F2F seminar
Field trip to a RE project in Germany
Alumni network

Course certification

RENAC professional certificate (accredited by ZFU, Germany)

RENAC professional certificate (accredited by ZFU, Germany)

RENAC GEFS certificate (accredited by ZFU, Germany)
28 ECTS, transferable towards the MSc.

Master´s degree from the Berlin School of Economics and Law (AMBA accredited business school)
RENAC GEFS Certificate included in the Master´s programme

Course languages
English/Spanish
English/Spanish
English/Spanish
English
---
Payment methods and discounts
---