Knowledge-exchange between US and German power system operators
Delegationtrip to Germany (September 25 - 28, 2017)
The United States and Europe face many common challenges on the road towards a cleaner and more flexible power supply system. Regulators and policy-makers are forced to respond to rapidly changing power markets and business models. Grid interconnectivity causes new cyber threats of previously unseen scale. Intermittent power sources demand economic solutions for load balancing. The 21st century has heralded in a new market order.
This delegation trip set the stage for an exchange of thought leaders to identify, track, and enable new business models and technologies for grid management and operation. This exchange among frontrunners allowed to better understand, navigate, and indeed create a new energy playbook for the newly emerging grid infrastructures.
Aiming to strengthen the transatlantic energy cooperation, to encourage the exchange of experiences and best practices and to build up energy transition policy expertise - the German Federal Ministry for Economic Affairs and Energy invited high level representatives from power grid operators and grid-related organizations in the US to participate in a delegation trip to Germany taking place from September 25 - 28, 2017.
The trip was organized by the Renewables Academy (RENAC) AG in Berlin and supported by its local partner, the German American Chamber of Commerce of the Midwest (GACC Midwest).
Please find below the program and presentations of the delegation trip of US Power System Operators to Berlin from September 25 - 28, 2017
Cecilia Strandberg
Project Director
Tel: +49 (0)30 58 70870 42
Fax: +49 (0)30 58 70870 88
Email: strandberg[at]renac.de
---
---
---
---
---
Monday, September 25, 2017
Introduction and Meeting with the German Government
Berlin
08:30 am

Welcome and introduction to Agenda and Delegation Trip
Mr. Berthold Breid, CEO RENAC, Renewables Academy (RENAC) AG
09:30 am

Welcome by the Director General Thorsten Herdan at the Federal Ministry for Economic Affairs and Energy (BMWi)
Mr. Thorsten Herdan, Director General, German Federal Ministry for Economic Affairs and Energy (BMWi)
09:45 am

Introduction to the German Energiewende, the power system and the grid
Dr. Martin Schöpe, Head of Division International Energy Cooperation, BMWi
Mr. Max Rathmann, Deputy Head of Division General issues of electricity, power-sector integration, power plants, BMWi
Ms. Dr. Kristen Huttner, Deputy Head of Division National and European electricity grids and electricity grid planning, BMWi
Introduction to Germany's Energy Transition - Energiewende
Market and Flexibility for Germany's Energy Transition
Electricity Grid Development in Germany
10:45 am

Coffee / tea break
11:30 am

Role of the Regulator
Dr. Annegret Groebel, Head of Department "International Relations/Postal Regulation", The Federal Network Agency (BnetzA)
Integrating Renewables in the Grid and the Market
12:30 pm

Lunch break
02:00 pm

Electricity market design for the Energy Transition
Ms. Dr. Stephanie Ropenus, Senior Associate / Grids & Nordic Energy Cooperation, Agora Energiewende
Mr. Andreas Jahn, Senior Associate, The Regulatory Assistance Project
Electricity Market Design for the Energy Transition
German Network Planning, Operation and Costs Allocation

06:30 pm

Welcome reception at the U.S. Embassy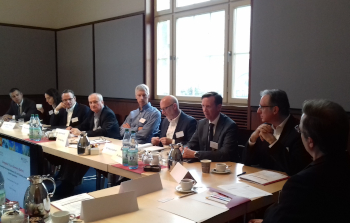 ---
Tuesday, September 26, 2017
Meetings and Site visits
Berlin
09:00 am
Meeting and site visit: Transmission Grid Operator 50Hertz
Mr. Boris Schucht, CEO, 50Hertz
Mr. Dr. Dirk Biermann, CMO, 50Hertz
Mr. Gunter Scheibner, Head of System Operations, 50Hertz
12:30 pm
Lunch break
02:00 pm
Meeting with Distribution Grid Operator (DSO)
Mr. Dr. Stefan Küppers, Managing Director, Westnetz
Mr. Dr. Stefan Richter, Vice President Regulatory Management & Grid Economics, innogy SE
Mr. Torsten Knop, Head of European Regulation Project, innogy SE
Grid Connection Agreements/Voltage Control for PV and Wind Farm
06:00 pm
Guided city tour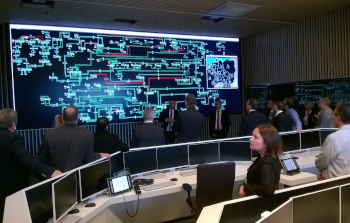 ---
Wednesday, September 27, 2017
Meetings and Site visits
Berlin - Renewables Academy (RENAC) AG, Finowfurt
09:00 am
Meeting with utility E.ON
Mr. Patrick Woodson, Chairman, E.ON North America
Mr. Kevin Gresham, Vice President Government Relations & External Affairs, E.ON North America
Mr. Clemens Carnap, Head of Project Quality Management, E.ON
E.ON Climate & Renewables Company Presentation
Facts and Figures E.ON

12:00 pm
Lunch break
03:00 pm
Site visit of Solarpark Finow (80MW) and PV Remote Control Centre
Mr. René Baumann
Mr. Ralf Fischbein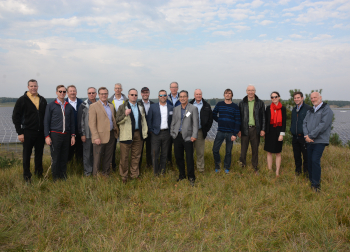 ---
Thursday, September 28, 2017
Meetings and concluding workshop
Berlin - Renewables Academy (RENAC) AG
09:00 am
Germany's renewable power future - simulation for the year 2050
Mr. Dr. Malte Siefert, Fraunhofer Institute for Wind Energy and Energy System Technology (IWES)
Mr. Philipp Härtel, Fraunhofer Institute for Wind Energy and Energy System Technology (IWES)
Mr. Denis Mende, Fraunhofer Institute for Wind Energy and Energy System Technology (IWES)
Germany's Renewable Power Future - Simulation for the year 2050

10:30 am
Coffee / tea break
11:00 am
Public acceptance of new grids for the Energy Transition
Ms. Antina Sander, Deputy Executive Director, Renewables Grid Initiative
Mr. Andrew Carryer, Project Manager, Renewables Grid Initiative
Public acceptance of new Grids for the Energy Transition

12:45 pm
Lunch break
02:00 pm
Concluding workshop
Mr. Albrecht Tiedemann, Head of Wind Energy / Grid Integration / Energy Policy, Renewables Academy (RENAC) AG
04:00 pm
End of the official program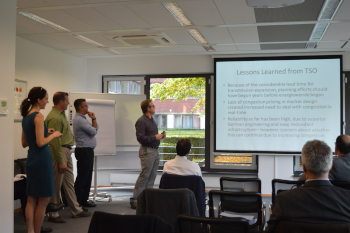 ---