iRise: Indian Rooftop PV Installers Skilling and Employment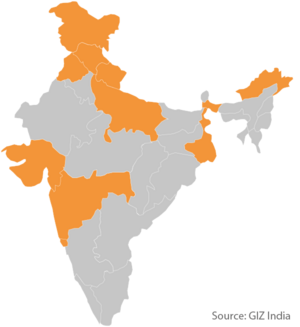 A well-working PV installation is not only a matter of technology, but also of qualified and skilled installers and engineers. iRISE focuses on upskilling Indian Solar installers (Suryamitras) and companies. Therefore it offers measures such as training-of-trainers, hands-on trainings, mentoring and study tours to Germany demonstrating the German dual VET apprenticeship experience. The project will improve the opportunities for Indian PV installers in the emerging job market and enhance the market development.

iRISE is part of the Indo-German Solar Partnership and supports the "Skilling India" initiative targeting 500 million skilled workers to be placed in appropriate employment by 2022. The Renewables Academy (RENAC) AG has been awarded by GIZ (Gesellschaft für Internationale Zusammenarbeit) to successfully implement iRISE.
---
The Project aims at multiple stakeholders
The iRise project offers a wide range of key activities, each adapted to the different stakeholders.
---
The project operates in different verticals

Abishek Dalal
Jr. Technical Expert
Deutsche Gesellschaft für internationale
Zusammenarbeit (GIZ) GmbH
Mobile: +91 7206660171
Email: abishek.dalal[at]giz.de
Web: www.giz.de
---
---
---