iRise: Indian Rooftop PV Installers Skilling and Employment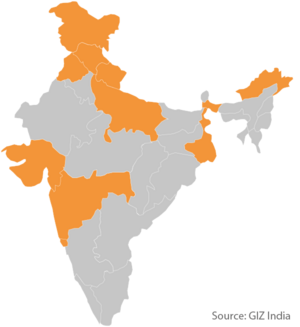 A well-working PV installation is not only a matter of technology, but also of qualified and skilled installers and engineers. iRISE focuses on upskilling Indian Solar installers (Suryamitras) and companies. Therefore it offers measures such as training-of-trainers, hands-on trainings, mentoring and study tours to Germany demonstrating the German dual VET apprenticeship experience. The project will improve the opportunities for Indian PV installers in the emerging job market and enhance the market development.

iRISE is part of the Indo-German Solar Partnership and supports the "Skilling India" initiative targeting 500 million skilled workers to be placed in appropriate employment by 2022. The Renewables Academy (RENAC) AG has been awarded by GIZ (Gesellschaft für Internationale Zusammenarbeit) to successfully implement iRISE.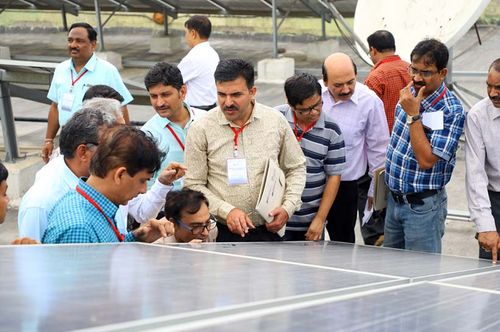 ---
---
Abishek Dalal
Jr. Technical Expert
Deutsche Gesellschaft für internationale
Zusammenarbeit (GIZ) GmbH
Mobile: +91 7206660171
Email: abishek.dalal[at]giz.de
Web: www.giz.de
Katie de Albuquerque
Head of Division
Solar Energy / Rural Electrification
Tel: +49 (0)30 58 70870 36
Email: albuquerque[at]renac.de
---
The Project aims at multiple stakeholders
The iRise project offers a wide range of key activities, each adapted to the different stakeholders.
Qualifying Suryamitra Trainers
Due to the COVID 19 pandemic the actual planned training programme has been redesigned a series of live virtual classes. An onsite PV-Port installation training will be organized to a later stage when the circumstance will improve.
The objectives of the course are:
upgrade technical and business skills
install and market the 'PV-Port' solar system
Certification
RENAC, SCJG
Location
Virtual live training
Training
Virtual live / face-to-face training
Target group
80 Suryamitras Master Trainers, nominated by 30 Training Partners
Content

Performing sizing and design calculations correctly
Upgrading and filling gaps in technical theoretical knowledge
Developing Entrepreneurial/ Business Skills
Installation of a PV Port System

Experts
Frank Jackson, Arunachalan Karthikeyan, Dr. Christoph Müller
Duration
6 days (4 hours) virtual / 2 days face-to-face
---
Upskilling Suryamitras in installation and Entrepreneurship
Each training is designed for a maximum of 25 participants and will be led by a Suryamitra Master Trainer. An international trainer is coaching as a technical and a didactical expert.
Certification
RENAC
Location
30 Training Partner Institutions in 16 States
Training
Virtual live / face-to-face training
Target group
1.5000 Suryamitras
Content

Training on PV Port
Installation and Entrepreneurship Skills on PV Port System

Experts
Suryamitra Master Trainers
Duration
10 / 60 days physical training
---
Creating a pool of highly-trained PV inspectors
iRISE is offering to DISCOM empaneled installers the following capacity building features:
Training material for Trainings "Rooftop PV Performance Optimization"
Implementing of two-days training
| | |
| --- | --- |
| Certification | RENAC |
| Location | GERMI / Gujarat |
| Training | 2 virtual or face to face trainings |
| Target group | 40 DISCOM empaneled installers |
| Content | Enabling DISCOM engineers to deliver high quality PC rooftop inspections |
| Experts | International and national experts (tbd.) |
| Duration | 3 days |
---
Building a training infrastructure for (solar) E-Mobility
E-Mobility is an emerging momentum in India and regulations have been published in the recent past. Training institutions and their trainers need to cater to the new requirements of the market.
DISCOM engineers gain knowledge on the impact of increased E-Mobility and charging infrastructure on the distribution grid via RENACs E-Learning Platform.
Certification
RENAC
Location
E-Learning platform RENAC
Training
E-Learning module, online
Target group
40 DISCOM engineers
Content

Introduction on E-Mobilty
Charging infrastructure and the integration of PV into the energy supply of these charging stations

Experts
International and national experts (tbd.)
Duration
40 hours
---
POLICY TRAININGS FOR SCIENTISTS
The IRISE Policy training targets staff of Ministry of New and Renewable Energy (MNRE) and National Institute of Solary Energy (NISE) in India. It is about successful renewable energy policies and international good practice exchange. Implementation is planned for August – September 2021.
Certification
RENAC
Location
Online
Training
2 trainings
Target group

30 scientists and newly hired staff of MNRE / NISE

Content

e-learning focusses on: policy frameworks for renewable energy power generation
Live classes focusses on: global trends in RE landscape and policy overviews

Experts
Tobi Couture
Duration
40 hours online; 3 half days live virtual classes
---
SERIOUS GAME FOR PV ROOFTOP INSPECTIONS
Within the PV Installation Quality and Performance Initiative, the development of an innovative serious game training concept for a virtual real-world learning experience on high-quality PV rooftop inspections is planned.
| | |
| --- | --- |
| Certification | RENAC |
| Location | Online |
| Training | 1 serious game |
| Target group | 100+ engineers from DISCOMs and EPCs |
| Content | a visually intriguing and realistic online game, which will entice, demonstrate to and test participants on the standards and procedures required for PV inspectors |
| Experts | International and national experts from RENAC and ESPOTO |
| Duration | 40 hours online; 3 half days live virtual classes |
---
SKILLING ROOFTOP PV ENTREPRENEURS
This IRISE module is about upskilling DISCOM engineers and other target groups on design, planning and business development for rooftop PV systems.
Certification
GERMI
Location
GERMI / Gujarat / or online
Training
5 days presence / or online if needed
Target group
80 graduates interested in entrepreneurship, entrepreneurs, SCGJ training partner faculties, industry representatives, university faculties, DisCom engineers, etc.
Content
To provide knowledge and skill required

to venture into solar rooftop market
to lead the enterprise,
prepare the feasibility study report,
to manage the complete rooftop solar PV project lifecycle, in compliance with all relevant codes, standards and safety
to project costing and financing
to actively participate in the growing Indian solar market.

Experts
National and international experts (tba)
Duration
5 days
---