EnerTracks Online Training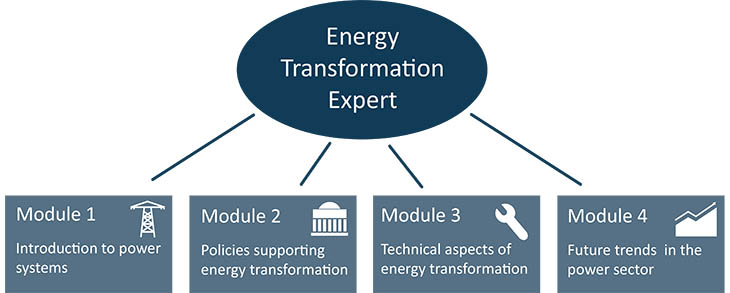 The Online Training of the EnerTracks programme comprises four modules. These modules can be taken as a consecutive programme, but also individually, as each module stands for itself. While Module 1 provides a more general introduction to power system transformation, Module 2 goes in to details on the economic and political side, while Module 3 covers more the technical aspects. Module 4 will look at new trends and their potential to shape future power systems.
Candidates who complete all four modules successfully will receive an additional certificate under the title "Energy Transformation Expert".
---
Objectives
The Online Training of the EnerTracks programme will prepare a large number of participants to manage the challenges connected to power system transformation and decarbonization better.
Participants will be able to:
Distinguish different types of power systems and their characteristics
Identify the suitability of political support mechanisms to meet specific targets
Evaluate technical challenges of integrating large shares of variable renewable energy to the grid
Assess pros and cons of future trends in the power sector
---
Target Groups
The Online Training is designed for interested individuals from eligible countries who work in the energy sector and are willing to work on decarbonisation of the power system. Both public and private sector are welcome to join the Online Training. Applicants should have a good command of English. Interested participants have to apply online within the announced application periods and accept the terms of reference for the scholarship.
University students are not eligible to the programme, gainful employment is necessary instead.
---
Online Training methodology
The Online Training is designed such that learners can study at their own pace and availability. A series of virtual classrooms, short assignments and forum discussions will make the programme interactive and vivid.
Each module will ask participants to commit an estimated 35 hours depending on background knowledge and experience of participants. These 35 hours include working through the material such as reading, watching video lectures, doing self-assessment tests, participating in the forum, and submitting short assignments.
The participation in the online courses is free of charge and includes access to text and videos, self-assessment tests, lectures from experts and professionals delivered via virtual classrooms, technical and organisational support via the forum and email.
Participants can print out a copy of the course materials in the form of PDF documents (for personal use only). Course materials are provided in English. Lecturers in the virtual classrooms will present in English.
---
Module details
Module 1: Introduction to power systems
Main topics: fundamentals of electricity, generation technology, flexibility options in power systems, fundamentals of power systems and power markets
Prerequisites: involved in the energy sector, basic technical and economic understanding
Assessment: 2 assignments and a final exam (online)
Implementation: from 04 March to 10 Mai, 2019
Module 2: Policies supporting energy transformation
Main topics: political support mechanisms for renewable energy, carbon markets, balancing power market design and operation
Prerequisites: basic understanding of renewable energy and the power sector
Assessment: 2 assignments and a final exam (online)
Implementation: from 01 July to 6 September, 2019
Module 3: Technical aspects of energy transformation
Main topics: Aspects of grid integration of renewable energy systems, application and technical aspects of the four classic flexibility options (grid, storage, generation, demand side)
Prerequisites: basic understanding of renewable energy and the power sector
Assessment: 2 assignments and a final exam (online)
Implementation: from January to March 2020
Module 4: Future trends in the power sector
Main topics: We will specify the topics based on interest and response of participants, possible topics are energy sector coupling, digitisation in the energy sector, and alike.
Prerequisites: basic understanding of renewable energy and the power sector
Assessment: 2 assignments and a final examination online
Implementation: April to June 2020

Albrecht Tiedemann
Project Director
Tel: +49 (0)30 58 70870 40
Fax: +49 (0)30 58 70870 88
Email: enertracks[at]renac.de
---
---
---