Introduction to Renewable Energy Technologies
Content
Learning objectives
Target groups
Course details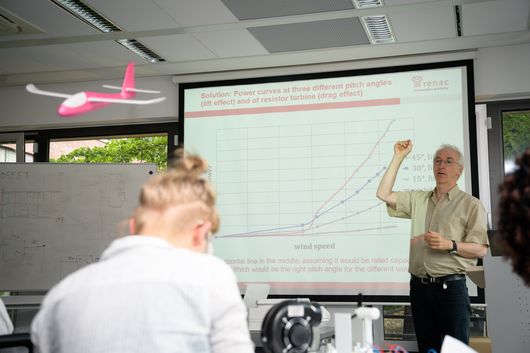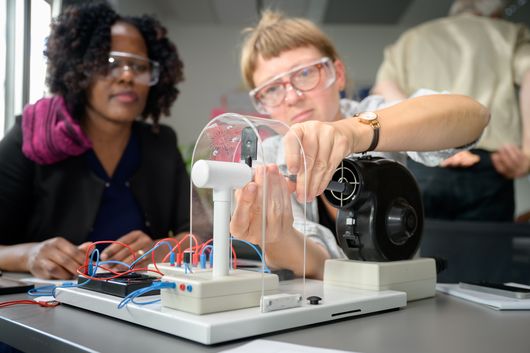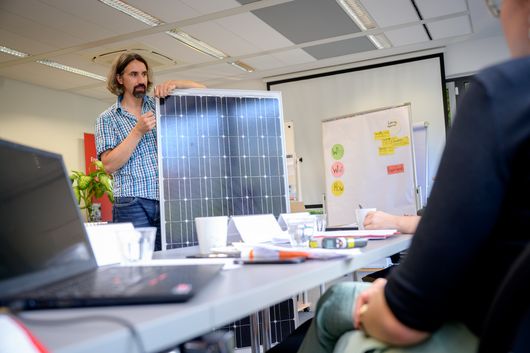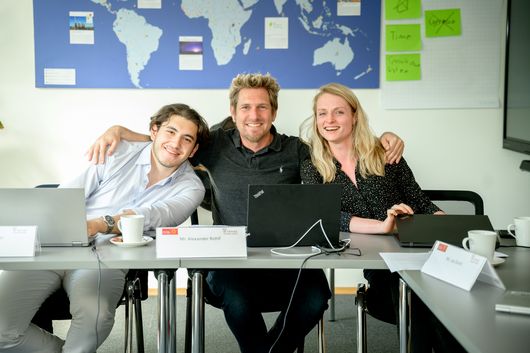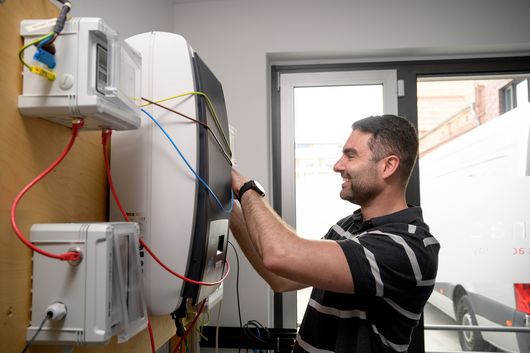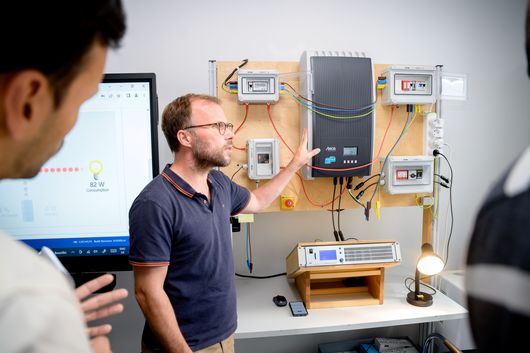 Highlights
Assessment of knowledge acquisition
Qualified trainer with extensive industry experience
Theoretical lectures, discussions, and group work
State-of-the-art practical training (calculations, hands-on exercises)
Use of technology-specific, self-build practical training rigs
Informative and engaging site visits or field trips with inspections of power plants and buildings
Certificate of attendance from RENAC
We offer discounts for our alumni, group bookings, and multiple purchases. Contact us for further details.
____________________________________________________________________________________
Contact
Dr. Emilienne Tingwey
Project Director Face-to-face Trainings
Tel: +49 (0)30 58 70870 52
Email: tingwey[at]renac.de
Lecturers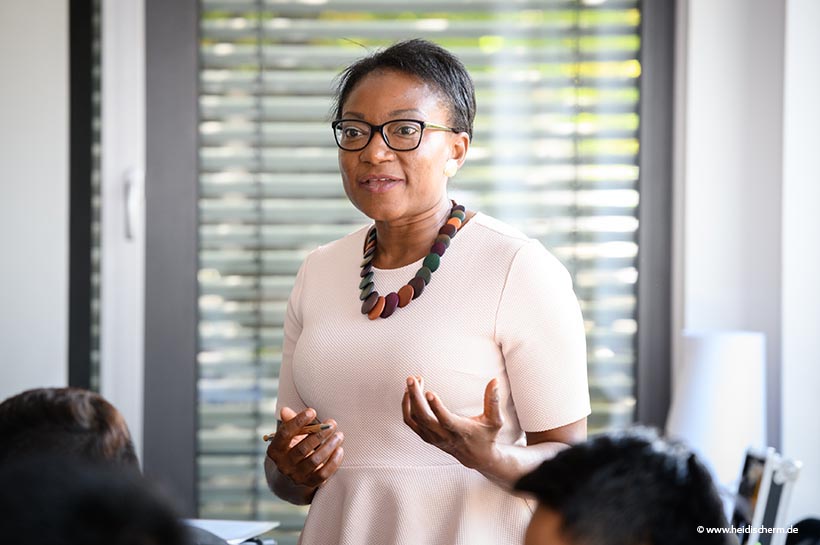 Dr. Emilienne Tingwey, RENAC
Current position:
Emilienne Tingwey joined the Renewables Academy (RENAC) AG in Berlin in 2010 and started off as a project assistant in the international know-how transfer project TREE (Transfer Renewable Energy & Efficiency). After managing various tailor-made courses offered by RENAC and carrying out solar training exercises, she is presently the project director of all face-to face training programmes at RENAC. She is head of the Green Energy Summer School, an annual study event offered by RENAC.
Professional experience:
Emilienne is a certified TüV trainer and trains people on how to carry out renewable energy training seminars and helps others to develop training programmes in renewable energy.Additionally, she is really keen to empower women and youth in the RE sector through training. With RENAC she carried out the APEC project 'Empowering women as managers of the Renewable Energy' on behalf of the United States Department of Energy. Through training and mentoring, the project helped to increase the contribution of women to RE development in APEC economies. She was also in charge of a GIZ sponsored project in Cameroon: Transfer of renewable energy knowledge through the usage of solar photovoltaic to provide energy (electricity) to a local health centre: an off-grid system was installed in a local health centre and thereby training some youth in the community.
Education:
Emilienne Tingwey holds a PhD in Environmental Sciences and a Masters in Environmental and Resource Management from the Brandenburg Technical University (BTU) in Cottbus (April 2009). Born in Cameroon, Dr. Emilienne Tingwey grew up and studied in Cameroon right up to her bachelor's degree before moving to Germany. She speaks fluent English, French, Pidgin, Moghamo and German.
Albrecht Tiedemann, RENAC
Current position:
Albrecht Tiedemann is a director at the Renewables Academy (RENAC) AG since 2009. He manages the CapREG Program "Capacity Development on Renewable Energy and Grid Integration" for Professionals from Indonesia, Philippines, Thailand, Vietnam, Mexico, Peru and Ecuador working in the public and private energy sector. He is responsible for Blended e-Learning seminars (renewable energy and grid integration) and works as a trainer for wind energy (resource assessment, technology, hybrid wind/PV micro grids and wind farm economics) and for grid integration of renewables (balancing power and capacity credit calculation, short term power forecast for wind and solar). Mr Tiedemann moderates and chairs panel discussions, workshops, seminars and conferences.

Professional experience:
From 2003 to 2009 he was Project Director at the German Energy Agency (dena) GmbH and there he worked as a Consultant for the German Federal Ministry of Economics & Technology, the Federal Ministry for the Environment, the European Commission and enterprises in the energy sector. Furthermore, he was the Chairman of Offshore Wind Standing Committee of the Federal government and the coastal Länder as well of the Forum Offshore Wind Energy and Nature Conservation. Mr. Tiedemann has been executively involved in the integration of renewable energies into the German energy supply system and in conducting strategic analysis for the German energy sector (German grid-study I and II until 2020 and 2030).
From 1989 to 2003 he worked as scientific assistant for the Federal Environmental Agency of Germany where he was responsible for developing environmental friendly technologies.

Education:
He holds a degree as "Engineer of Environmental Protection Technology" from the Technical University Berlin.
Alexander Boensch, RENAC
Current position:
Before joining RENAC's Green Banking Team in 2016, Alexander Boensch frequently provided seminars, course design concepts and e-learning content for RENAC since 2008.

Professional experience:
Mr Boensch trained as a Financial Economist and held postgraduate positions in the banking and finance industry with a sector focus on energy for five years. Since 2003, he has been working as a Finance Consultant for renewable energy project developers, financial investors and public utilities being in charge of structured and corporate finance, risk and treasury management, procurement of capital, bank marketing and M&A activities. During the last twelve years of working in the European renewable energy industry, Mr Boensch was involved in renewable energy projects with an installed capacity of more than 750MW and successfully raised capital of approx. 1.3 billion EUR. In addition to his work in renewable energy finance consulting and training, Mr Boensch lectures on academic courses on corporate finance, capital markets and renewable energy economics at different academic institutions. He is also a member of the investment decision-making board of a well-established German investment company that exclusively funds renewable energy assets.

Education:
Alexander Boensch has a Master's degree (M.A.) in International Economics and a degree in Business Administration, Finance and Strategic Management.
Frank Jackson, RENAC
Current position:
Currently Frank runs a range of courses for people who are getting involved in the renewable energy industry and more specialised courses for solar electricity.

Professional experience:
Frank Jackson is an expert solar photovoltaic trainer and has been involved in the solar energy industry since the early 1990s, running courses and seminars, designing and installing systems, and more recently active in publishing. He has worked in the UK, France, Germany, Spain, Kenya, Tanzania and Somalia. Besides training activities, he has also designed and installed numerous photovoltaic systems (both off-grid and grid-tied).

Education:
Frank Jackson studied 1992 Photovoltaics and Development at the University of East London, and Electrical Installation Competences at the City & Guilds London Institute, London & Wales.
Katie de Albuquerque, RENAC
Current position:
Katie has worked as lecturer for RENAC since 2008.
Professional experience:
Katie de Albuquerque worked for Arups for two years as a building services engineer, working on heating and ventilation system design, in particular on the New Justice Building in Antwerp, Belgium. In the meantime, she has been involved with a development charity in Kenya, working with street children in Nairobi on a water supply project. Katie has spent six years working with renewable energy systems at the Centre for Alternative Technology in Wales, UK (www.cat.org.uk). Whilst there, she did several domestic solar thermal and wood fuel installations, as well as working on domestic PV systems, on- and offgrid, wind and hydro.
Education:
Katie grew up in Northern Ireland and then went to the University of Strathclyde in Glasgow, Scotland, to study Mechanical Engineering.
Martin Schnauss, RENAC
Current position:
Martin Schnauss has been working in the area of renewable energies for more than 2 decades. Currently he is working as freelance engineer, working on feasibility and market studies and developing market introduction strategies.

Professional experience:
With respect to solar systems, both solar thermal and PV, Martin possesses profound experience in planning and construction, technical support, cost estimates, analyses of cost-effectiveness, monitoring an research, system optimising and computer simulation. In his career he has been working as an engineer for e.g. the Technical University of Berlin, German Solar Industry Association (BSW-Solar) or the engineering Dr. Valentin. Martin Schnauss regularly gives presentations in the context of national and international conferences and gained teaching experienced in many lectures and seminars on renewable energy technologies since the 1980ies.

Education:
Martin Schnauss is an Electrical Engineer (Dipl.) and studied at the Technical University of Berlin (Germany).
Salem Kadi, RENAC
Current position:
Since 2017, Mr. Kadi works as a Solar Energy Project Manager and as Head of Sales and International Project Development at RENAC.

Professional experience:
Mr. Kadi has been working as a project manager in various solar PV projects and has been conducting training seminars on renewable energy. He has gathered experience in utility scale PV project development and acquisition in different markets. He is also an expert in rural electrification and off-grid PV applications. Before starting to work at RENAC he gained work experience in MENA, Africa, South East Asia and the Pacific.

Education:
Mr. Salem Kadi holds a degree in Electrical and Electronic Engineering (Diploma). He has more than 6 years work experience in different fields of renewable energies, especially in solar PV energy.
Volker Jaensch, RENAC
Current position:
Volker Jaensch joined Renewables Academy (RENAC) AG in August 2010. As project director he is responsible for the areas of bioenergy, financing and climate change mitigation as well as for the design and implementation of renewable energy training centers. Furthermore, Mr. Jaensch is involved in wind energy and energy efficiency projects and trainings.

Professional experience:
Volker has ten years professional experience in project development, due diligence, financing and implementation of renewable energy projects with a focus on biomass and wind-energy (at daughter companies of Veolia Environment and Gamesa Energia). He also gained experience in the political arena of renewable energy at the German Energy Agency (dena). Before joining RENAC Mr. Jaensch was active for four years in the development and implementation of sustainable Carbon Credit generating projects (according to the Kyoto Protocol and the Gold Standard) in developing countries.

Education:
Mr Jaensch holds degrees in Environmental Engineering and Master of Business Administration (MBA).