Mobilising the CO-BENEFITS of Climate Change Mitigation through Capacity Building among Public Policy Institutions
COBENEFITS 2017 - 2022
INDIA, VIETNAM, TURKEY, SOUTH AFRICA, MEXICO, KENYA
What is the CoBenefits programme?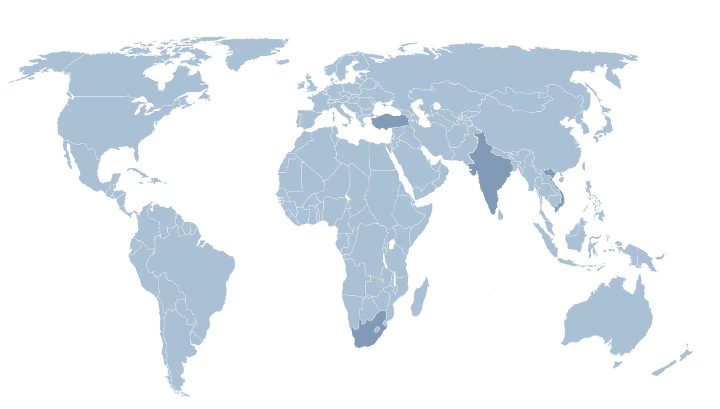 COBENEFITS is a capacity-building programme funded by the German Federal Ministry for the Environment, Nature Conservation and Nuclear Safety (BMU) within the German International Climate Initiative (IKI). COBENEFITS assists relevant policy makers – the key players that shape climate, energy and environmental policy – in their ability to spur ambitious climate action.
COBENEFITS partner countries in "phase 1" (2017-2020) were India, Vietnam, Turkey and South Africa. In "phase 2" (2020-2022), our capacity-building activities are directed at our partner countries Turkey, South Africa, Mexico and Kenya.
The COBENEFITS virtual training programme for phase 2 can be downloaded here.
For Spanish-speakers, the online training brochure can be downloaded here.
---
The global transition to renewable sources of energy, as a key action area for climate change mitigation, is in full swing. Besides climate change mitigation, renewables offer many social and economic opportunities, such as
employment and job creation
clean air
public health
innovation
access to electricity
energy security
improved investment opportunities
local value-creation
empowerment of women
These positive side effects of climate policies are called co-benefits.
"Highlighting and harnessing the social and economic co-benefits of climate action, such as health benefits, local economic benefits, improved air quality or new jobs, will be crucial to make NDC and SDG implementation a success for the planet and the people."
Dr. Karsten Sach, Germany, BMU, 2019
---
What does COBENEFITS offer?
COBENEFITS offers trainings, networking opportunities and exchange of experiences for energy professionals from South Africa, Turkey, Mexico and Kenya. Online training courses and virtual face-to-face seminars provide comprehensive know-how on co-benefits, renewable energy technologies, and energy and climate policies. In detail COBENEFITS offers
A comprehensive set of online training courses in the RENAC Online Academy
Certificate: COBENEFITS Specialist in Renewable Energy
Country specific COBENEFITS assessment reports developed by national research institutions
Mutual learning workshops and virtual face-to-face trainings
A transnational training workshop with participants from all partner countries, in Berlin or virtually (tba)
---
Who can apply for the COBENEFITS trainings?
The COBENEFITS training programme is targeting professionals from Turkey, South Africa, Mexico and Kenya working in the following public and private sectors:
Ministries recognising the importance of climate protection/policy and/or with responsibility for climate and energy policy on national level
Subordinate authorities and regulators, regional or local administration
Policy makers on subnational/state level
Financial institutions
Energy or climate related agencies, think tanks and research institutions
RENAC will choose participants according to the information provided in the application form (CV, description of tasks at work, motivation letter and signed Terms of Reference etc.). Participants accepted for a training will receive a confirmation email from RENAC.
---
Berlin Energy Transition Dialogue 2022 Testimonials
Activities

Activities and trainings in partner countries:
Albrecht Tiedemann
Project Director
Tel: +49 (0)30 58 70870 40
Fax: +49 (0)30 58 70870 88
Email: tiedemann[at]renac.de

Charlene Rossler
Project Manager
Tel: +49 (0)30 58 70870 43
Fax: +49 (0)30 58 70870 88
Email: rossler[at]renac.de
---
VIDEO: The COBENEFITS PROJECT and "Climate Opportunity 2019"
---
---
---
---
---
---