Integration of PV and Energy Storage Systems
Content
Learning objectives
Target groups
Course details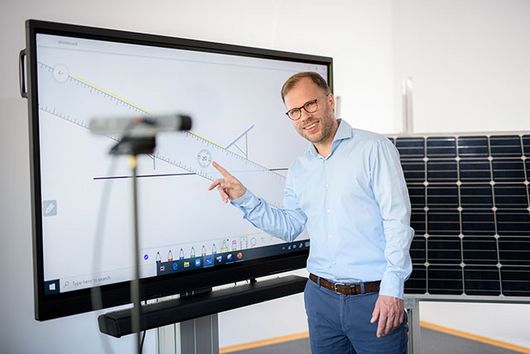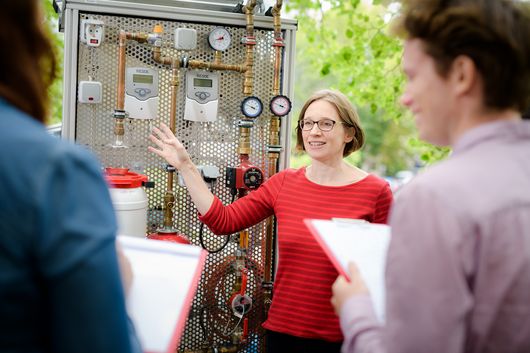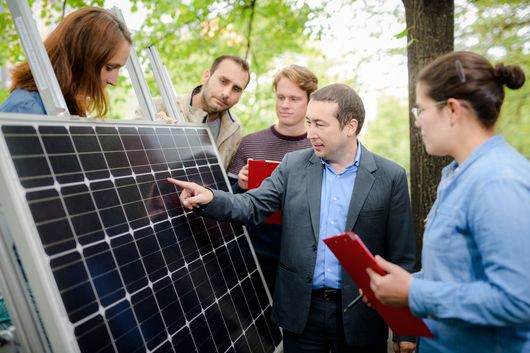 Highlights
Assessment of knowledge acquisition
Qualified trainers with extensive experience in the industry
Up-to-date theoretical lectures, case studies, discussions, partner work
State-of-the-art practical training
Certificate of attendance
We offer group and alumni discounts. Contact us for further details.
_______________________________________________________________________________
Contact
Dr. Emilienne Tingwey
Project Director Face-to-face Trainings
Tel: +49 (0)30 58 70870 52
Email: tingwey[at]renac.de
Lecturers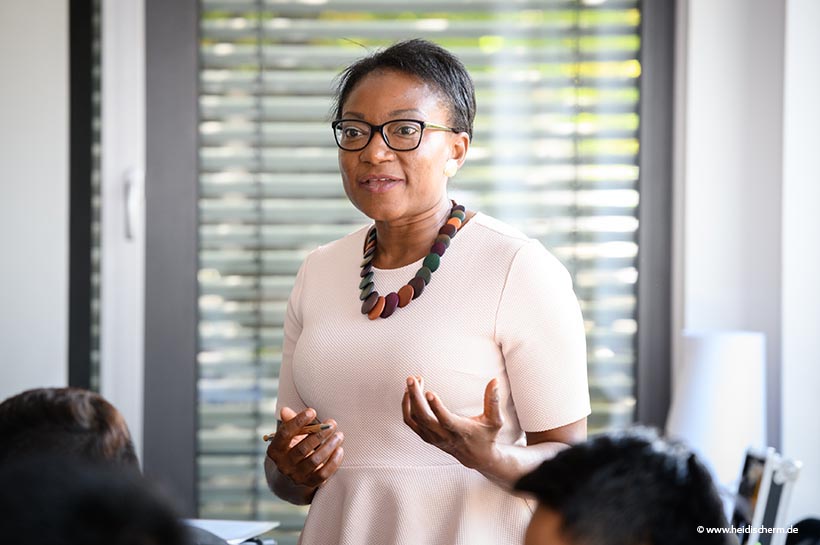 Dr. Emilienne Tingwey, RENAC
Current position:
Emilienne Tingwey joined the Renewables Academy (RENAC) AG in Berlin in 2010 and started off as a project assistant in the international know-how transfer project TREE (Transfer Renewable Energy & Efficiency). After managing various tailor-made courses offered by RENAC and carrying out solar training exercises, she is presently the project director of all face-to face training programmes at RENAC. She is head of the Green Energy Summer School, an annual study event offered by RENAC.
Professional experience:
Emilienne is a certified TüV trainer and trains people on how to carry out renewable energy training seminars and helps others to develop training programmes in renewable energy.Additionally, she is really keen to empower women and youth in the RE sector through training. With RENAC she carried out the APEC project 'Empowering women as managers of the Renewable Energy' on behalf of the United States Department of Energy. Through training and mentoring, the project helped to increase the contribution of women to RE development in APEC economies. She was also in charge of a GIZ sponsored project in Cameroon: Transfer of renewable energy knowledge through the usage of solar photovoltaic to provide energy (electricity) to a local health centre: an off-grid system was installed in a local health centre and thereby training some youth in the community.
Education:
Emilienne Tingwey holds a PhD in Environmental Sciences and a Masters in Environmental and Resource Management from the Brandenburg Technical University (BTU) in Cottbus (April 2009). Born in Cameroon, Dr. Emilienne Tingwey grew up and studied in Cameroon right up to her bachelor's degree before moving to Germany. She speaks fluent English, French, Pidgin, Moghamo and German.
Katie de Albuquerque, RENAC
Current position:
Katie has worked as lecturer for RENAC since 2008.
Professional experience:
Katie de Albuquerque worked for Arups for two years as a building services engineer, working on heating and ventilation system design, in particular on the New Justice Building in Antwerp, Belgium. In the meantime, she has been involved with a development charity in Kenya, working with street children in Nairobi on a water supply project. Katie has spent six years working with renewable energy systems at the Centre for Alternative Technology in Wales, UK (www.cat.org.uk). Whilst there, she did several domestic solar thermal and wood fuel installations, as well as working on domestic PV systems, on- and offgrid, wind and hydro.
Education:
Katie grew up in Northern Ireland and then went to the University of Strathclyde in Glasgow, Scotland, to study Mechanical Engineering.
Lars Koerner, RENAC
Current position:
Lars Koerner joined Renewables Academy (RENAC) AG in May 2014 as Project Director. He coordinates and conducts training programs at Renewables Academy (RENAC) AG mainly in the field of solar energy systems. Off-grid systems and PV-Diesel-Hybrid mini-grids for rural electrification or industrial applications are his special interest.

Professional experience:
Before joining RENAC Lars gained seven years of experience as project engineer and senior product manager at SolarWorld AG where he also managed several rural electrification projects. His experience in the area of solar energy spans further through his work at the German Aerospace Center (DLR) in Almeria, Spain and Fraunhofer ISE in Freiburg, Germany. He is an expert in sizing and simulation of solar energy systems and the co-author on off-grid systems in Earthscan's 3rd edition of "Planning and Installing Photovoltaic Systems".

Education:
Lars holds an engineering diploma in Environmental Engineering / Renewable Energies and is also a state-licensed electrician.
Rafael Juan Martí, RENAC
Professional Experience:
Rafael Juan has several years of experience in solar projects development in Latin America. He has worked in the area of business development with several companies in different points of the renewable solar industry chain and has technical and commercial knowledge in power electronics and energy storage solutions.
Salem Kadi, RENAC
Current position:
Since 2017, Mr. Kadi works as a Solar Energy Project Manager and as Head of Sales and International Project Development at RENAC.

Professional experience:
Mr. Kadi has been working as a project manager in various solar PV projects and has been conducting training seminars on renewable energy. He has gathered experience in utility scale PV project development and acquisition in different markets. He is also an expert in rural electrification and off-grid PV applications. Before starting to work at RENAC he gained work experience in MENA, Africa, South East Asia and the Pacific.

Education:
Mr. Salem Kadi holds a degree in Electrical and Electronic Engineering (Diploma). He has more than 6 years work experience in different fields of renewable energies, especially in solar PV energy.